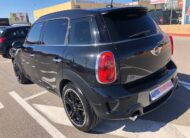 Elevate Your Driving Experience with the 2012 MINI Countryman S - Where Luxury Meets Performance!
Indulge in the epitome of both luxury and performance with the 2012 MINI Countryman S. This remarkable 4-seater is meticulously designed, from the plush leather seats to the integrated SAT NAV system, ensuring every journey is a delightful experience. With a powerful 184 CV (horsepower) gasoline engine, automatic gearbox, and a competitive price of only 14,550 euros, you're not just getting a car; you're securing an extravagant lifestyle.
Key Features and Extras:
Reliability and Performance: The 2012 MINI Countryman S is a testament to MINI's reputation for reliability, powered by a robust 184 CV gasoline engine, promising exceptional performance on the road.
Automatic Gearbox: Enjoy effortless driving with the automatic transmission, providing seamless gear changes and a smooth ride.
Luxury Interior: The interior of the Countryman S exudes luxury, featuring opulent leather seats, offering superior comfort and style.
4-Seater: This MINI is an exclusive 4-seater, perfect for those who desire a more intimate and comfortable driving experience.
Integrated SAT NAV: Stay on the right path with the integrated SAT NAV system, ensuring you'll never lose your way.
Competitive Pricing: Priced at a mere 14,550 euros, the 2012 MINI Countryman S provides an irresistible combination of luxury, performance, and affordability.
Change of Ownership: Our team ensures a seamless transition of ownership, making the process hassle-free for you.
1-Year Warranty: Drive with peace of mind, knowing that your purchase includes a one-year warranty that covers the engine and gearbox, shielding you from unexpected expenses.
Valid ITV: The vehicle is accompanied by a valid ITV certificate, signifying that it meets all safety and environmental requirements.
Fresh Maintenance: We've performed an oil change and replaced the filters, guaranteeing that your MINI Countryman S is in peak condition and ready to hit the road.
Additional Extras Include:
Enhanced Infotainment: Enjoy the latest in entertainment and connectivity with an advanced infotainment system.
Black Sporty Alloy Wheels: The car showcases striking black alloy wheels that enhance both the aesthetics and performance.
Unrivaled Safety Features: Equipped with state-of-the-art safety features, your well-being and security are our top priorities.
The 2012 MINI Countryman S flawlessly combines design, performance, and luxury. With its competitive price, a one-year warranty covering the engine and gearbox, and a seamless change of ownership process, this car delivers a driving experience that's second to none.
Don't miss out on this exclusive opportunity to make this outstanding luxury performance vehicle your own. Contact us today to schedule a test drive and embark on a journey of sheer luxury, performance, and style. The 2012 MINI Countryman S is not just a car; it's a statement of opulence and reliability.
MINI COUNTRYMAN S 1.6 GASOLINA 184 CV 2012 116000 KM AUTOMATICO