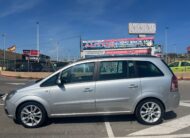 Elevate Your Journey with the 2005 Opel Zafira: Reliability, Space, and Affordability in One Package!
Are you in search of a reliable, spacious 7-seater that offers ample storage space and comes at an attractive price point? Look no further than the 2005 Opel Zafira. Priced at just 6,850 euros, this versatile vehicle combines practicality, dependability, and affordability.
Highlighted Features and Extras:
Reliability is Key: The 2005 Opel Zafira is renowned for its dependability. Whether you're planning a family trip or daily commuting, this vehicle is designed to keep you moving without a hitch.
Spacious 7-Seater: This Zafira model boasts a 7-seater configuration, offering ample room for your family and friends. The rear seats are easily folded when you need extra cargo space, making it a versatile choice for your diverse needs.
Large Boot Capacity: When the additional seats aren't in use, you'll enjoy a spacious and accommodating boot space, perfect for groceries, sports equipment, or luggage. The Zafira is a master of flexibility.
Competitive Price: Priced at 6,850 euros, the Opel Zafira offers exceptional value, combining dependability, roominess, and budget-friendliness.
Change of Ownership: We've streamlined the process of transferring ownership, ensuring it's hassle-free and straightforward.
1-Year Warranty: Drive with confidence knowing that your purchase includes a one-year warranty covering both the engine and gearbox. This warranty provides peace of mind and safeguards against unexpected expenses.
Valid ITV: The vehicle is equipped with a valid ITV certificate, certifying its compliance with safety and environmental standards.
Fresh Maintenance: We've recently performed an oil change and replaced the filters to ensure that the vehicle is in top condition and ready for your journeys.
Additional Features and Extras:
Powerful Diesel Engine: The 1.9L diesel engine delivers 120 CV, providing an optimal balance between performance and fuel efficiency.
Easy Handling: The Opel Zafira is designed for ease of handling and maneuvering, making it a suitable choice for both urban and highway driving.
Comfortable Interior: Enjoy comfortable seating, intuitive controls, and a thoughtfully designed interior that enhances your driving experience.
Convenient Storage Solutions: The vehicle includes various storage compartments and cup holders for your convenience.
The 2005 Opel Zafira perfectly combines reliability, spaciousness, and an enticing price point. With a 1-year warranty covering the engine and gearbox, straightforward ownership transfer, and a valid ITV certificate, it represents a complete package of quality and affordability.
Don't miss the opportunity to experience the outstanding value and dependable versatility of the 2005 Opel Zafira. Contact us today to arrange a test drive and embark on your journeys with confidence and space to spare. The 2005 Opel Zafira is more than a car – it's a dependable travel companion you can count on.
OPEL ZAFIRA 7 PLAZAS 1.9 DIESEL 120 CV 2005 139000 KM MANUAL