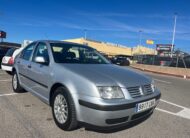 Upgrade Your Drive with the 2003 Volkswagen Bora 1.6
Elevate your driving experience with the 2003 Volkswagen Bora 1.6, a perfect blend of style, performance, and reliability. Priced at an attractive 5,550 euros, this well-maintained vehicle is ready to hit the road with a host of features and assurances.
Key Specifications:
Engine Power: The Bora 1.6 boasts a responsive 102 CV gasoline engine, delivering a perfect balance of power and fuel efficiency for a smooth and enjoyable ride.
Mileage: With only 113,000 kilometers on the odometer, this vehicle ensures a long and exciting journey ahead. The low mileage is a testament to its careful use and maintenance.
Automatic Transmission: Enjoy the convenience of an automatic transmission that provides a seamless and stress-free driving experience, perfect for both urban commutes and long highway drives.
Special Offerings:
Distribution Kit Changed: We understand the importance of regular maintenance. The distribution kit has been recently changed, ensuring optimal engine performance and reliability.
Change of Ownership Assistance: Our dealership ensures a hassle-free change of ownership process, allowing you to swiftly become the proud owner of this Volkswagen Bora.
1-Year Warranty: Your peace of mind is our priority. The Bora comes with a comprehensive 1-year warranty that covers both the engine and gearbox, providing protection against unforeseen expenses.
Valid ITV: The vehicle is equipped with a valid ITV certificate, assuring compliance with safety and environmental standards.
Fresh Maintenance: To guarantee peak performance, we've conducted a recent oil change and replaced the filters, ensuring that you drive away in a well-maintained and reliable vehicle.
Competitive Price:
Priced at 5,550 euros, the Volkswagen Bora 1.6 offers exceptional value for those seeking a stylish and reliable vehicle without breaking the bank. Don't miss the opportunity to own a car that combines performance, comfort, and affordability.
Contact us today to schedule a test drive and experience the pleasure of driving a Volkswagen Bora. Your next adventure awaits!
VOLKSWAGEN BORA 1.6 GASOLINA 102 CV 113000 KM 2003 AUTOMATICO
Description
Year

2003

Make

Volkswagen

Model

BORA

Kilometres

113000 km

Gearbox

Automatic

Seat

5

Engine

1.6

Exterior Color

Gray/Silver

Fuel Type

Gasolina