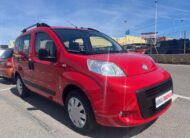 Introducing the Fiat Qubo 1.4 Gasoline: Experience practicality and versatility like never before with this exceptional compact MPV. Powered by a reliable 1.4-liter gasoline engine, delivering a steady 73 horsepower, the Fiat Qubo offers a comfortable and efficient driving experience. And the best part? It's available at an attractive price of just 7,850 euros.
The Fiat Qubo features a unique and functional design that maximizes interior space and usability. Its compact size makes it perfect for navigating busy city streets with ease, while its cleverly designed cabin offers ample room for both passengers and cargo. Whether you're embarking on a family adventure or running errands, the Fiat Qubo is ready to accommodate your needs.
Equipped with a responsive manual transmission, the Fiat Qubo ensures smooth gear shifts and a responsive driving experience. The gasoline engine provides a good balance of power and fuel efficiency, making it an ideal choice for daily commutes and longer journeys.
Safety is a top priority in the Fiat Qubo, with features such as anti-lock braking system (ABS), stability control, and multiple airbags, ensuring the well-being of you and your passengers on every trip. Additionally, the low mileage of this vehicle adds to its reliability and longevity.
The Fiat Qubo offers excellent value for your investment, with its affordable price and low running costs. Its reliability and fuel efficiency contribute to reduced maintenance and fuel expenses, allowing you to enjoy savings without compromising on quality and performance.
Don't miss out on the opportunity to own the Fiat Qubo 1.4 Gasoline at the attractive price of just 7,850 euros. Experience the practicality, versatility, and affordability that this compact MPV has to offer. Embrace a new level of convenience and elevate your driving experience with the Fiat Qubo.
FIAT QUBO 1.4 GASOLINA 73CV AÑO 2010 135000 KM MANUAL