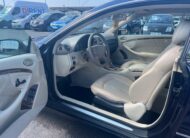 Discover the Unrivaled Elegance and Performance of the 2002 Mercedes-Benz CLK-240 - A Testament to Luxury and Reliability!
Experience the epitome of sports luxury with the 2002 Mercedes-Benz CLK-240. This exceptional vehicle combines breathtaking design, a magnificent interior featuring sumptuous leather seats, and cutting-edge performance to offer an unrivaled driving experience. As the highest trim in the Mercedes-Benz CLK series, this car embodies opulence and power. With its potent 170 CV (horsepower) gasoline engine and smooth automatic gearbox, every drive is a thrilling journey. All of this luxury and performance is now available at a highly competitive price of just 6,850 euros.
Key Features and Extras:
Reliability and Performance: The 2002 Mercedes-Benz CLK-240 is a testament to the brand's renowned reliability and is powered by a robust 170 CV gasoline engine, ensuring remarkable performance on the road.
Automatic Gearbox: Enjoy the seamless and convenient drive provided by the automatic transmission, making each journey a true pleasure.
Sports Luxury: This model is the pinnacle of sports luxury, boasting stunning aesthetics, elegant design, and the prestige of the Mercedes-Benz name.
Leather Seats: The interior of the CLK-240 is adorned with luxurious leather seats, adding comfort and sophistication to your every ride.
Competitive Pricing: Priced at just 6,850 euros, this Mercedes-Benz CLK-240 offers an unbeatable combination of luxury, performance, and affordability.
Change of Ownership: We ensure a smooth transition of ownership, handling all the legalities so that you can focus on enjoying your new car.
1-Year Warranty: Drive with confidence, knowing that your purchase includes a one-year warranty covering the engine and gearbox, protecting you from unexpected expenses.
Valid ITV: The vehicle comes with a valid ITV certificate, certifying its compliance with safety and environmental standards.
Fresh Maintenance: We've performed an oil change and replaced the filters, ensuring that your Mercedes-Benz CLK-240 is in pristine condition and ready for the road ahead.
The 2002 Mercedes-Benz CLK-240 is a magnificent blend of design, performance, and luxury. With a competitive price, one-year warranty covering the engine and gearbox, and a hassle-free change of ownership process, this car offers a driving experience like no other.
Don't miss this exclusive opportunity to make this exceptional sports luxury vehicle your own. Contact us today to schedule a test drive and embark on a journey of pure luxury, performance, and style. The 2002 Mercedes-Benz CLK-240 is not just a car; it's a statement of elegance and reliability.
MERCEDES-BENZ CLK-240 206 GASOLINA 170 CV 2002 167000 KM AUTOMATICO